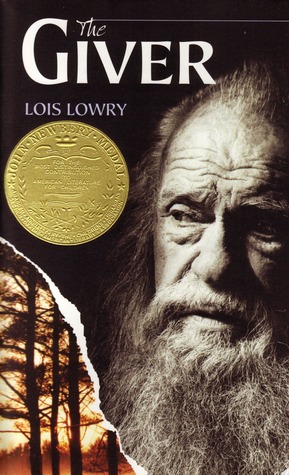 3/5 – Spoilers throughout
When Jonas reaches the age of twelve, his career will be chosen for him, as it is for every twelve year old in the community where he lives. Some will become labourers, some mothers, some doctors.
Jonas is the reciever of memory – every memory in the history of the old world, passed on by his tutor, The Giver. The question is, what will he do with that knowledge?
This is a short book, only about two hundred pages, so it only took me a few hours to read. The premise, though an old one – Utopia with a dark heart – is unique in its width. The community (it's never named) has pushed blandness to an art form. Even colour (somehow) and music are banned, for fear of the population going wild and rioting if they see a patch of green grass or hear some Mozart, or something. Sex is forbidden and love controlled with drugs. Procreation is moved to a rotating group of birthmothers (who are presumably inseminated artificially).
However, they have taken the smart move of delegating everything ever learned onto one person. Most Utopias seem determined to forget the past ever existed.
Early in the book, Jonas talks about elderly patients and miscreants being sent 'Elsewhere' and 'being released', and it was very obvious from the first references that this is a community that not so much enjoys euthanasia as revels in it; 'sub-standard' infants and the elderly all go through the procedure. So it's no shock to witness it when it happens late in the book to a baby.
The technical aspects of this book – it's all telling and no showing ("Jonas was angry", not "Jonas clenched his fists") – and the oddly stilted dialogue make this book feel like it was written in 1955, not 1993. The writing is at the level of a children's book; this is not YA, people! Eleven year olds have moved on – you don't need to spoon-feed them by telling and not showing.
On the other hand, that stilted approach works well in the community as presented – everyone is bland and two-dimensional as the colourless world where they live. But here's the thing: For effect, that tell-not-show should have changed when Jonas began his lessons with The Giver. And it didn't.
Because of that, I felt nothing for Jonas or anyone else. I didn't connect to him because he remained so two-dimensional. He could have been given so much more depth, but he's never given the chance before he's running away from home.
Jonas is also very passive. His relationship with The Giver is there only for exposition. Instead of Jonas finding things out for himself, instead of him pushing the boundaries of his life, instead of him maturing into an adult, he asks and The Giver explains the world to him on a plate. Spoon-feeding again. So the hero in this book does nothing until the last twenty pages.
Let's talk about those last twenty pages, which is when the book really starts to fall over. Jonas crests a hill, finds a sledge and slips through the snow. It's the first memory The Giver passed on to him. I had the feeling that Lowry wanted some deep metaphorical ending, but it didn't work for me; Jonas is obviously hallucinating, or already dead. So the passive hero who does nothing but flee dies at the end. Lovely.
I rated this three stars, but I hesitated between that and two. Lowry creates a solid world, and one that works, but the hero in it is bland, even when he has the chance to become much more. The only colour in the book comes from The Giver, and all he does is exposit.
For a better time with a Utopia with a dark heart, read Mel Cusick-Jones, "Hope's Daughter" – teenagers who actually discover things for themselves.
Disappointing.