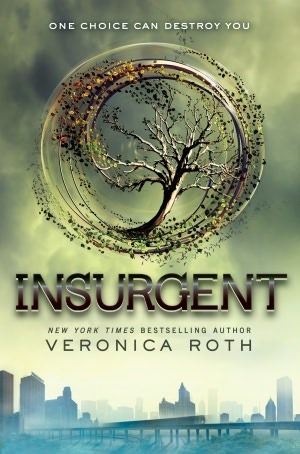 3/5
Tris has to come to terms with killing a friend, and losing her parents, while trying to form and keep new alliances with The Factions (and Factionless). But nothing is black and white anymore…
I checked back, and it's been two years since I read Divergent – high time I read Book Two, I thought, and I had some summer time reading space and went for it.
Despite the gap between the stories, I didn't feel lost as to what was going on in this book. It's almost self-contained, with enough back-story reminders to keep you on track. There's a nice sequel hook at the end so you come back for Book Three to see how it all works out.
Roth sketches her world in rough outlines, with shades of grey and rain the predominant colours and weather, but despite that, you get a solid sense of place and are very grounded in this world and its characters.
I commented in the first book there didn't seem to be much chemistry between Tris and her instructor, Tobias (now her lover). This time it seems more developed and the relationship more concrete. There seems to be more of a need for each other now.
Roth doesn't hang about in this book. Her pacing is relentless; there aren't many pages where the characters aren't moving forwards to the next event. Tris is shifting locations constantly in this book, from Amity orchards to Candor confusing corridors. The pacing is almost too fast, and sometimes the action blurs into one.
Tris also changes alliances as her whims take her. I'm not sure I would Tris with my back in a fire-fight: She might decide the people we were supposed to be fighting have a better deal for her. It does make her character and the dynamics of her relationships more interesting though. Tris is a woman in conflict, with everyone around her and herself.
I will be coming back for Book Three…maybe in another two years.