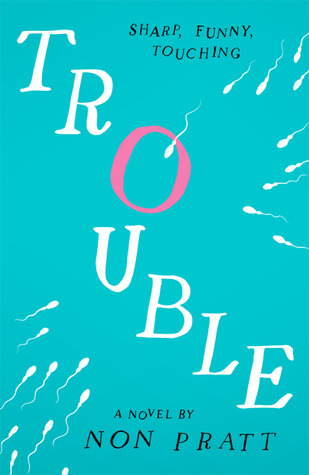 4/5
Hannah is a wild fifteen year old, who loves nothing more than drinking parties, socialising with her friends and not caring too much about school. Then she gets pregnant.
I hadn't heard much about this book before Becky's enthusiastic and passionate review here. I follow every one of her reviews, and she very rarely rates a book five stars…and certainly never reads a book in two days. This was one I had to see for myself…and I'm glad I did.
I was expecting some social lecture about the perils of pregnancy, and some moral lessons about underage sex (age of consent in the UK is sixteen), but there was little of that. In fact, the book isn't really about Hannah's pregnancy as much as it about the social changes it causes around her.
I won't reveal the spoiler of who the father is (I did work it out fairly quickly though), and why Hannah doesn't go to him is revealed over the course of the book and makes a major plot point.
This brings in the other main character: Aaron. Aaron is the new boy in school, emerging from some trauma he can't deal with. He views the eddies and streams of friendships and enemies with an indifferent eye, new to all and in some ways immune.
But when Hannah needs a father, he volunteers himself to be branded as the dad. Why he does it links back to his trauma…which is another spoiler I can't reveal.
The short punchy chapters alternate between Hannah and Aaron, and since they have very different narrative voices, it works very well. Hannah's sister receives a pet rabbit called Fiver for instance: Aaron would have recognised the Watership Down reference, but Hannah thinks it's how much it cost. Their outlooks and expectations were very different. No doubt that we were dealing with two different people at any point.
Minor characters were given lots of room and backstory as well. Neville, a pensioner Aaron visits, is a great character full of wit and wisdom, as is Hannah's gran. Nobody felt two dimensional.
There were points when the plot veered into kitchen-sink soap opera, but they were isolated. Pratt does a great job of pulling at your heart and then tickling it with her emotive writing within a paragraph or two.
This is a book about the strength of family and the power of good friends; a book about finding out who those friends are and who you can count on when you need them.
In the end, it's a happy and uplifting story, a potent and positive spin on a subject usually given more dour treatment.